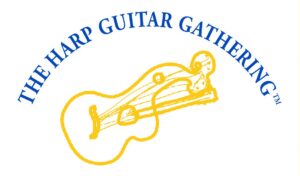 Greetings and salutations!
Even though we can't manage a Gathering this year in the way we've become accustomed to, we can still do something.  And so we shall.  On October 17th we'll have a virtual Harp Guitar Gathering® – vHGG18 – starting at 1:00 PM Eastern US time and running until no later than 7:00.  A six hour Gathering is better than no Gathering, right?  Right!
Go back to the home page and click on the vHGG18 link to see the schedule.
We'll be doing this on Webex, courtesy of Jim Haskins in Mooresville, North Carolina.  Jim has attended at least one of the Gathering concerts we've put on in Mooresville.  He and Board member/previous host Randall Sprinkle will be serving as Command Central, so to speak, for our event.  Thanks Jim for your generous offer to help us with this year's Gathering!  Aside from providing the platform and running the event for us, he has spent more than a few hours in preparatory sessions.  We appreciate it!
I forgot to mention that people can also watch our event on the Harp Guitar Gathering® FaceBook page, courtesy of Jim Haskins and his Webex connection.
IF YOU ARE INTERESTED IN "ATTENDING" vHGG18 AND HAVE REASON TO THINK YOU'RE NOT ON OUR EMAIL LIST, SEND AN EMAIL TO BOARD MEMBER JOE MORGAN (jmm55@verizon.net).  AN EMAIL WITH THE LINK FOR THE GATHERING WILL BE SENT NEXT WEEK, ALONG WITH A BIT OF RELATED INFO.
Though there is no registration fee, the Gathering Board asks that, if you can do so, please donate something to your local food bank.  We on the Board will be doing so ourselves.  And since there are costs associated with putting on even this abbreviated Gathering that must be paid.  If you would like to help with that, please do!  We are a 501(c)3 non-profit and so your donation would be tax-deductible.
If you click on About and then scroll down to Donate, you can see how to easily make a donation to the HGG.  It just so happens that an individual (who wishes to remain anonymous) has very generously offered to match any donations we take in this year.  So any donation you care to make automatically is doubled.  Can't beat that!
Stay safe and sane too (if possible) and I'll see you at the Gathering!
sb