Welcome to the new website of the annual
Harp Guitar Gathering®
This website is currently under construction, you can view the
previous Gathering site here.
"The Harp Guitar Gathering® is an annual event celebrating the instrument known as the harp guitar, as well as its players, builders and history.  It is hoped that musicians, luthiers, scholars and fans alike will participate in and benefit from the synergy resulting from 'gathering' together for this purpose.
"The Harp Guitar Gathering® strives to promote all things harp guitar, regardless of musical styles or international borders; we seek the broadest possible gathering of the kindred spirits who love this instrument in all its various forms. We further strive to promote the instrument to the widest possible public by expanding the general awareness of the instrument in media and by public performances in varying locations." – Stephen Bennett, the Harp Guitar Gathering Manifesto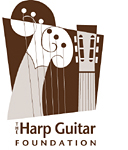 The Harp Guitar Gathering® is a registered trademark owned by the The Harp Guitar Foundation.  
The Gathering takes place every year in a different part of the United States during the fall months, with participants coming from all over the country, Canada, Japan and Europe – in fact, from anywhere in the world!
The Gathering is subsidized by the non-profit Harp Guitar Foundation.  Please consider making a donation so that this event can thrive.
Contact us for any more information:
The Harp Guitar Foundation
P.O. Box 573155
Tarzana, CA 91357
U.S.A.
(818) 884-7937