Welcome to the new website of the annual
Harp Guitar Gathering®
This website is currently under construction, you can view the
previous Gathering site here.
"The Harp Guitar Gathering® is an annual event celebrating the instrument known as the harp guitar, as well as its players, builders and history.
"The Gathering strives to promote a greater general awareness of the harp guitar, regardless of musical styles or international borders.  And we welcome the broadest possible gathering of the kindred spirits who love this instrument in all its various forms".   Stephen Bennett, founder and Gathering Director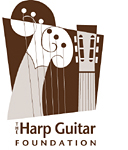 The Harp Guitar Gathering® is a registered trademark currently owned by the The Harp Guitar Foundation.  
The Gathering has taken place annually for 16 years now, with attendees coming from all over the United States, as well as from Canada, Japan and Europe.  First held in Virginia, the Gathering has also taken place in Oregon, Florida, Indiana, Connecticut, Texas, Idaho, North Carolina and California.  The 17th Harp Guitar Gathering® will take place October 18-20 in Mooresville, North Carolina.
The Gathering is currently subsidized by the non-profit Harp Guitar Foundation.  Please consider making a donation so that this event can thrive.
For more information, please contact:
Stephen Bennett
Or
The

Harp Guitar Foundation
P.O. Box 573155
Tarzana, CA 91357
U.S.A.
(818) 884-7937