HGG19 now finished… and HGG20 less than a year away…
This year's HGG, the 19th, is now in the rearview mirror. Someone (I forget who) put it to me something like this: the Gathering this year was small but mighty! Indeed it was.
Many of our friends who are often in attendance could not be this year and we missed them, of course. For the first time ever, we had no one from outside the US: Benoit Muelle-Stef, Claude & Anne Laflamme, Tony Barnard, Tony Karol, Martin Pleass, Tommy Loose, Michel Pellerin, and others couldn't be with us. And many of our US regulars  were unable to be here too: Rich Mermer (recovering nicely from his heart transplant!!!), Sally & Ed Dowling, Dan & Bets (Pease & Swarts), Bob & Carol Hartman, Mike Doolin & Nancy Conescu, Jaci Rohr, Dave & Tony Powell, Bruce & Cindy Labadie, Paul & Joy Price, Drew Baldwin and lots of other folks whose names are just not popping into my head at the moment.
Given that we only had 30 attendees, the 10% rate of newcomers was a solid plus. It was almost a bit higher than that as there was one more late registrant who wrote me the day before the Gathering started to say that he hadn't been feeling well, had gotten tested for covid, come up positive, and thus wouldn't be able to come after all. Rob Stagno, I hope you're feeling better!
New this year was Andrew Mullane from Colorado and Mike South from Connecticut, both of them really talented guys. And in a surprising twist this year, my new friend Stephen Bennett — no, I'm not talking about an imaginary friend (not that I don't have some) — attended for the first time this year. He's from the UK originally but now lives down the  road from me, in Mystic, CT. Stephen's a successful writer, a fine artist and, to top it off, a really musical guy too. Did I mention that he plays harp guitar? We'd worked up some music together over the last couple of months and had a great time presenting it. Stephen also sent me the photo below of our Saturday night group shot taken by his wife, Gabrielle. Stephen is 2nd from the left in the front row. Andrew is 3rd from the right in the back. Mike South, the 3rd first-timer, had to leave just before the photo was taken.
Some folks got to town on Thursday and we met for dinner and socializing that evening at a restaurant in Milford. I think there were 17 of us there.
The Gathering officially kicked off at 4:00 Friday afternoon at the Hilton Garden Inn. We had a nice dinner together and then, a couple of surprises. John Thomas showed up to join us for part of the evening. He was positively glowing, which, without intending to diminish John's natural evanescence,  was in this case probably more the result of  the radiation treatments he is in the midst of undergoing. After dinner,  Joe Morgan presented Muriel Anderson with the actual Lifetime Achievement Award that we announced at last year's virtual HGG. Joe was about to finally mail the award to Muriel when I learned that she would be at the Gathering after all. It was good to present it in person! She, like Andy Wahlberg a few years ago, richly deserved it.
Also, a project that had been underway for a while now was completed just in time to be debuted at the Gathering. My friend, engineer Kim Person, was hired by the HGG to put together an audiovisual presentation of Please Listen, the tune I composed for our late friend Hirokatsu Takai. Two years ago, I arranged an ensemble performance of Please Listen that  we all played together in Mooresville, NC during HGG17. Along with the audio of that performance was a great assortment of photos of Hiro appearing at the 7th, 10th and 15th Harp Guitar Gatherings. After the initial video was over, there was also footage of a wonderful duet played by Hiro and another amazingly talented player who, sadly, is no longer with us, Tom Shinness. To say that it was all very moving would be quite an understatement. Kim did a fantastic job compiling visuals provided by both Linda Morgan and Chuck Thompson, as well as weaving the solo and ensemble performances of the audio together into something very special. Thanks to the three of you!
That video will soon go to Hiro's family in Japan exclusively for a few weeks or so. Then it'll be posted on youtube for the rest of the world to enjoy. Thanks so much to our generous donors who made this project possible!
Next, as usual, we had an Open Mic. The Cooks opened it up with a lovely version of Autumn Leaves and on we went from there for the next couple of hours.
The first slot on Saturday was titled Big Mama at 112. (Big Mama, of course, is what I named my 1909 Dyer Brothers harp guitar long ago). That was followed by the introduction of my new friend with the same name. We called it The Stephen Bennett Experience: Are You Experienced? Stephen and I had great fun playing the duets we'd been working on. I think it's safe to say that the new SB with a British accent quickly became one of us! That was followed by a set of more duets by Frank Doucette & Steve Silva, Andy Wahlberg & Kinloch Nelson, and Randall & Jayne Sprinkle. These were all excellent! Next, Andy & I worked up an arrangement of El Condor Pasa on the spot. We both have played the tune for years as a solo but now we took it to another level. More good fun!
We broke for lunch and came back for the Luthier's Forum. Eric Elias, Michael Schreiner & Kinloch Nelson discussed their work and ideas and while it was a little different than what these forums have often been, in the sense of the bigger name luthiers not being in attendance this year, the discussion and presentation was very interesting. Chuck Thompson added to this as well with some news about the Nashville Electric Harp Guitars that he's involved with. Like this year's HGG overall, the Forum was small, but mighty!
Again this year, during part of the time during the Forum's time slot, we simultaneously offered a hands-on workshop for those who were more interested in playing. For that, Randall Sprinkle taught an arrangement of Spring from Vivaldi's Four Seasons Suite. Next, Andy and I got the assembled group all playing El Condor Pasa, the tune we'd arranged a few hours earlier. As it had been so much fun playing Please Listen together a few years ago, we'll try to make an ensemble piece a regular feature of Gatherings. In fact, Andy is going to put something together for us to play next year.
Following that, Mark Farley presented The Thrilla in the Villa. Imagining a chance meeting in an Italian villa between 2 of the harp guitar stars of the 19th century, Mertz & Regondi, Mark played both parts in the imagined contest between these two players/composers. Personally, I thought that Regondi was the victor. Mark was in period costume and in really fine playing form too, despite having some problems with his nails of late. It was a wonderful presentation!
We broke for dinner and then came the concert. Muriel Anderson (who I didn't know was coming until early last week) started the show. She invited me up to play a tune. Andy played next and I did one with him as well. Then I played and brought the new Stephen Bennett onstage to do Cry Me A River together. Then Muriel and Andy came up and joined me for The Water Is Wide. That lovely melody is, of course, our unofficial Gathering finale, having been the last tune played at every concert that we've presented since 2003. This year we had a bit of a twist on the finale. I'd suggested beforehand that we let the general public folks who were coming sit in the front rows and the rest of us would sit behind them. And so as Andy, Muriel and I played the tune in front of the audience, when the Gathering folks picked up their instruments and joined in, the unsuspecting listeners were sandwiched in between us. It worked beautifully! People were completely surprised – and delighted – by the surround sound that enveloped them.
Unsurprisingly, there was a very fun jam in the lobby following the concert.
I dragged myself back into the hotel before 9 on Sunday morning to talk about the particulars of the composition of a tune I wrote for yet another soul who left too soon. Her name was Beate Redberg and she was a huge fan and dear friend of mine in Osnabrück, Germany. Beate and her husband Kent helped me many times when I was playing in Germany.  I called the workshop Composing Beate. Andy followed with another session that ranged from You Light Up My Life by Debby Boone to Hey 19 by Steely Dan which somehow worked. (It's Andy, don't ask, just accept it). Then Kinloch taught his cool arrangement of Apache in great detail. It has become clear that Kinloch is now firmly in the harp guitar world – he ain't goin' back to the before times. It was a good morning.
Sir Gregory was up next with his Harp Guitar Year In Review. It was, as always, fascinating. Gregg is, of course, one of a kind and he gets deeply into the details of his stories. I love it!  At the end of Gregg's presentation, we morphed into another. On behalf of the HGG, I presented, in absentia, a Lifetime Achievement Award to John Doan. For those who don't know, Jown was at a bunch of the first decade of Gatherings and also hosted the 3rd. He's a great player and for a while, one of the only ones. Though John has been invited back a number of times, it's not thus far worked out for that to happen. No matter: we (the Board of the HGG) wanted the organization to be on record as recognizing John for his role in the advancement of this instrument that we all love. In 1988, when I started playing harp guitar, he'd been out and about for some years already, sharing and spreading the beauty that harp guitars can produce in the right hands. Andy Wahlberg and Muriel Anderson have such hands. John Doan does as well. Thanks for the beauty you've created, John!
Next we broke for lunch. Mid afternoon we started the Recital. Lots of excellent tunes and performances. Eric Elias got up to play. He did a couple of tunes, including the Gathering's first version of Love Potion #9. Jeff Pike got up and played for us for the first time. The King Mullet Strut was, I believe, the name of one the 2 tunes he played. Go Jeff! Andrew Mullane played a very beautiful and reflective piece. Randall & Jayne played a couple of beautiful arrangements for harp and harp guitar. The only thing that disappointed me was that, in his intro, Randall mentioned that the vocal to the song of Ed Sheeran's that they played had an odd pronunciation of the word "grass". Mr. Sheeran has it sounding so it rhymes with boss, specifically so that it wouldn't rhyme with, well, derriere. I'd hoped this meant Randall would be singing the tune, but he didn't. They did, however, play a truly lovely instrumental version of it. And I was personally glad that, after a false start, I made it through my arrangement of the Theme from To Kill A Mockingbird. I'd come up with it a decade ago but hadn't played it at all for a long while and the piece had consequently left my fingers. My friend Patty (a big supporter of the HGG)mentioned in a recent email how much she liked that arrangement and so I started trying to get it back a month or so ago.
I would be remiss if I didn't mention that we were munching on popcorn of various flavors during the Recital, courtesy of Dan Pease & Bets Swarts. Though they were ultimately unable to attend, they wanted me to use their registration money to do something fun for those who were at HGG, rather than have it refunded. Thanks, you two!
Next, a few of us joined Muriel in recording a session of what she called a Harp Guitar Hang that she'll present on one of her Monday night online presentations. Then we broke for dinner. Everyone was pretty tired by this point and so we didn't wind up having another Open Mic. Instead, we watched the Please Listen video again and just got to talking.
A good Gathering was, I think, had by all! Thanks to Joe Morgan and Randall Sprinkle, as well as to their spouses – Linda and Jayne – for all they did to make the Gathering be what it was. And thanks to my wife, Nancy B, for all the many ways she helped to make HGG19 a success.
Lots more photos will be visible at Certified Harp Guitar Photographer  Chuck Thompson's site before long. Linda Morgan will be adding photos here  as well. So do check back!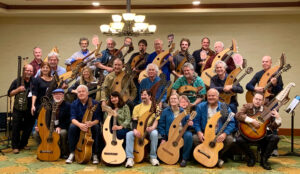 The 20th Harp Guitar Gathering will take place in Connecticut on the weekend of October 28-30, 2022. The specific location is still to be determined. We hope to see all of our friends there! In the meantime, check your tuning and stay well.
That's all for now – but stay tuned!
sb