HGG 17 Schedule (subject to slight revisions)
Friday
4:00 Registration, check in, and socializing at the Hilton hotel lobby
6:00 Dinner with opening remarks, announcements, raffle and open mic immediately following
Saturday
9:00 Opening Remarks
9:15 Introducing Michael O'Brien
10:15 Some Minnesota Magic: The Music Of Dan Schwartz
11:15 Instant Arrangement
12:30 Lunch (food trucks outside) — with three 10-minute playing slots available
1:15 Luthiers Forum (in main room)
1:30 Randall Sprinkle teaches his arrangement of Here Comes The Sun (location yet TBD)
2:45 SHORT Break
3:00 Sir Gregory's Harp Guitar Year In Review
4:00 Remembering Hiro
For 10-15 minutes: SB explains tune
Then for 30-45 minutes: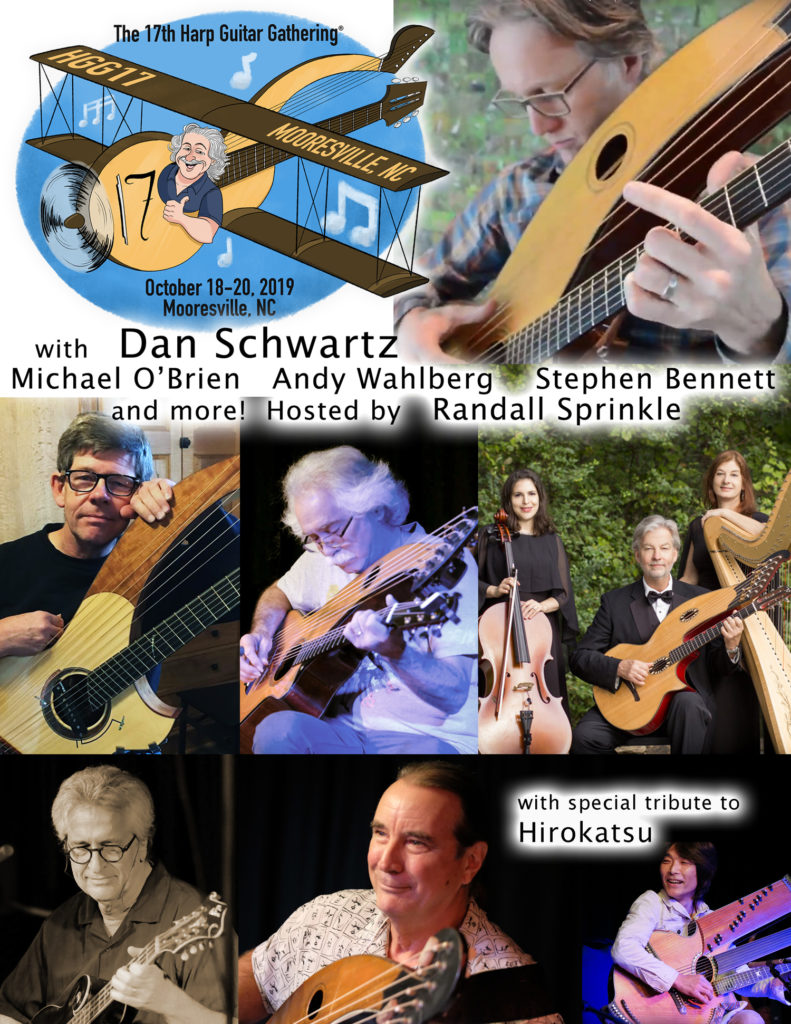 SB works with one group Andy works with the chordal/arpeggio group Claude works with the super-treble group Gregg works with the melody support group
For next 30-45 minutes: we play together. Besides doing this for our own therapy, the goal is to get a decent video and audio recording to send to Hiro's family!
Note: We want everyone who wants to play on this to do so! As it will require a bit of preparation to get the best results, after you register, you'll be asked if you want to participate. If so, you'll be assigned to one of the groups and sent a pdf of the part you'll be playing.
DINNER BREAK by 5:45
8:00 Concert
Sunday
Room A
9-12 Open Mic
Room B
9-10:30 Dan Schwartz teaches a tune
10:30-11:45 Yet to be finalized
Room C
9-10:30 SB teaches Please Listen
10:30-12 Notation Workshop with SB, Dave Powell, Steve Silva, and Mike Doolin
3:00 Recital
7:00 Dinner
This year's after-dinner Open Mic theme is: Tunes With Place Names In The Title (e.g. Georgia On My Mind)
NOTE:
By request, there will be a new option at this year's Gathering: Your chance to have a private recording class with master engineer Kim Person
Kim will set up a " Home Studio" in one of the rooms at the church where most of the Gathering's activities will take place. She'll share her experience on how to get the best recorded sound from an instrument. You are free to submit your questions to Kim in advance in preparation for this session. You can also bring your own microphones for this session (although you don't need to). Please be prompt with your appointment!
Video recording of the session for personal use is allowed – but sharing on YouTube, etc – is not! You will have the option of receiving any recording files from the session, either on a thumb drive (which you'll need to bring or purchase) or via Kim's delivery of them through Dropbox.
Obviously this will be a limited offering; with six 30 minute slots available on Saturday and two on Sunday afternoon. Preregistration is highly suggested. There is an extra cost of $60 for this class.
Please contact Stephen Bennett ( sb@harpguitar.com ) with any questions or to register and reserve one of these slots with Kim.  If you're interested in this, don't wait — 4 of the 8 slots are now filled! (as of July 1)